Discover everything you need to successfully launch your Lean Six Sigma project.
At Lean Six Sigma Belgium we believe that the rate at which organizations learn may soon become the only sustainable source of competitive advantage. Our mission is to support your organization in the learning and the development of Lean Six Sigma, Lean Management and BPM skills. Lean Six Sigma Belgium provide intensive trainings alongside project management coaching and consulting. We take you step by step through the certification stages and ensure successful DMAIC project deployment. Together we align your organization to achieve success. We are an IASSC accredited training organization.
Lean Six Sigma Belgium is a team of experienced Black Belt consultants, engineers and operational excellence change agents.
Questions ? Call us at 02 206 1082
Coaching
Strategic Guidance: Plan deployment
Training & Certification: Equip the actors
Project Coaching & Delivery: Support deployment
Lean Six Sigma Yellow, Green or Black Belt Trainings & Certifications
We offer Lean Six Sigma Yellow, Green and Black Belt trainings. Our workshops and business case programs employ teaching methods which focus on the mental, physical and emotional development of participants. Their contents are specifically tailored to the training objectives, the participants and your organizational culture. The teaching methods Lean Six Sigma Belgium use are fun, participatory and collaborative, involving problem solving, role playing and real cases project management. They offer motivating challenges and stimulate participants to invest in their training.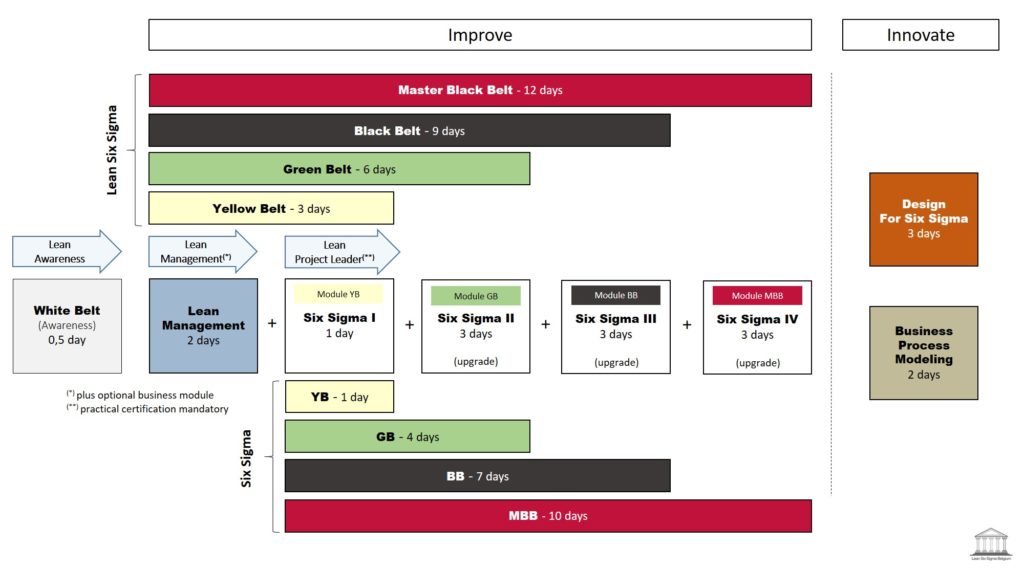 In option after the training, each participant/team will receive 4 sessions of 2 hours of for project mentoring. They will get personalized feedbacks of a Master Black Belt to prepare for the practical certification or to use Lean Six Sigma Tools in a project.
As well as 1/1 coaching, it is also possible to organize Lean Six Sigma serious games days where the managers as well as his/her team will work on waste and quality issues so that they can improve the efficiency at the workplace and produce better results.
How does Lean Six Sigma Belgium do it?
We use Lean Management principles to learn how to identify waste in order to design faster and responsive processes.
Six Sigma principles to improve customer satisfaction by delivering perfect products and services on a consistent basis.
Prepare you to deal with those Lean and Six Sigma principles.
Deal with operational excellence, continuous improvement and customer satisfaction issues.
Define, Measure, Analyze, Improve and Control are the 5 pillars of our organization.
Who is Lean Six Sigma Belgium for?
We partner with clients from the private, public, and non-profit sectors in Belgium, France and abroad to develop their Lean Six Sigma skills, address their most critical quality and process improvement issues. Our customized consulting, learning and development approach implements the Lean Six Sigma insights at all levels of your organization. This ensures you to achieve sustainable continuous improvement in your efficiency, quality, people, cost, customer satisfaction and revenue issues.
Lean Six Sigma Belgium's service extends beyond our work: we promote the exchange of expertise between our consultants and your organization. We believe that co-creation between us is key to the success of your operational excellence challenges. Through the development of these synergies, we ensure your people to master Lean Six Sigma philosophy and to run it afterwards.
Why implement LEAN SIX SIGMA?
Increases Efficiency
Improves Quality
Develops People Ownership and Effectiveness
Reduces Costs
Increases Customer Satisfaction
Increases Revenue
Subscription, information, quotation or expert call back.
Call us directly and get our experts on the phone: 02 206 1082
Training Satisfaction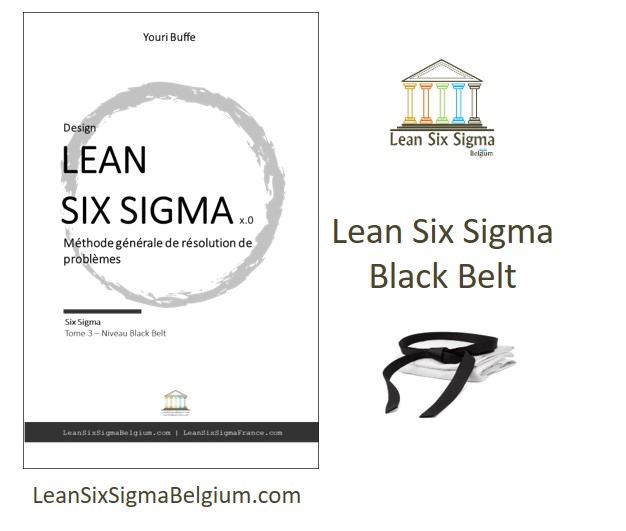 Rating
Organisation
Training Name
Price
Training Availability