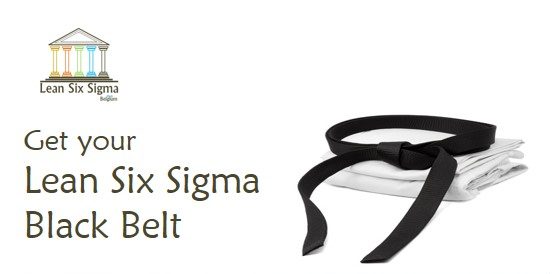 Lean Six Sigma Black Belt Training Duration: 12 days  – 4.990 ex vat 
17, 20, 21 May, 3 & 4, 17 & 18 June, 11, 14, 18, 21 & 22 Oct 2019 – Brussels
20, 23, 24, 30 Sep, 1, 7, 8, 11, 14, 18, 21 & 22 Oct 2019 – Brussels
Certification: yes
Subsidies: Brussels & Wallonia (Chèques Formation)
Lean Six Sigma Black Belt training and certification for services and industry
An interactive Lean Six Sigma Black Belt training to discover how Lean management refers to process optimization and waste elimination; and how Six Sigma projects are connected to quality improvement and client satisfaction.
This Lean Six Sigma Black Belt workshop provides you with an effective course + exam of what you, as effective team member or consultant, are required to perform as a Certified Black Belt. Training objectives:
Use Lean Management principles to identify waste in order to design faster and responsive processes
Use Six Sigma to improve customer satisfaction by delivering quality on a consistent basis
Prepare you to deal with operational excellence, process management, continuous improvement and customer satisfaction issues
Lead DMAIC projects in full autonomy
Solve in a scientific and sustainable way complex problems related to products
or services quality (projects « 6 sigma »)
Apply advanced measurement system analysis and statistical tools to determine the cause of a complex problem and take the right decision
Optimize and make products and services more reliable
Put under statistical control production and service processes and monitor the continuous improvement of quality
After this 12-day program you will pass the certification exam and act like a certified Lean Six Sigma Black Belt member.
Upgrade from Green Belt to Black Belt please call us 02/206.10.82
 Lean Six Sigma Black Belt Training Program
This Lean Six Sigma Black Belt training is a structured and disciplined management method based on process improvement targeting quality. We will teach you a method that aims at reducing the risk of going outside of the client's expectations by delivering perfect products and services on a consistent basis. It will focus on all types of processes owing to organization complexity and process internalization.
You can divide the Lean Six Sigma Black Belt training into 3 parts. The lean management part (3 days) of the training refers to value preservation focusing on eliminating non-value added (waste) resources or activities. The Six Sigma part is a set of techniques and tools used for process improvement. The Black Belt Six Sigma specialization part is focused on specific services and industry tools and methodologies.
Part 1 – Lean Management (Business Game) – 3 days
Kicking off with a little story about Lean principles and TPS (Toyota Production System) shows you the Eastern way of thinking in improving processes. The two days are focused on a Lego Serious Play Production Plant Business Game which will help you to understand Lean tools like the Value Stream Map. During this part you will understand value preservation focusing on eliminating non-value added resources or activities (waste) and a set of techniques and tools used for process improvement.
Part 1 :
Introduction to DMAIC
Lean vs Six Sigma
Experimentation on a process implemented in the classroom (« serious game »)
The '3 Voices' (Voice of the Client, Voice of Business, Voice of Collaborators)
Measurement of performance (KPI's): effectiveness (quality) vs efficiency
Little's Law
Value Stream Mapping (VSM)
7+1 wastes
Calculation of the Process Cycle Efficiency (PCE)
Takt time and Cycle time
Load chart
Theory of Constraints (bottlenecks analysis)
Part 2 :
Process improvement workshop on the process implemented in the classroom
Line balancing and debottlenecking
Basic principles of process reengineering
Calculation of resources staffing
One piece continuous flow
Pull production and Kanban (introduction)
Poka-Yoke (introduction)
5S (introduction)
SMED (introduction)
Calculation of the Overal Process Efficiency (OPE)
Kaizen Event
Toyota Way
Exam
Part 2 – Six Sigma and the organization – 9 days

In this Six Sigma part you will discover the aims of reducing the risk of going outside of the client's quality expectations by delivering perfect products and services on a consistent basis.
All organizations cope with challenges of getting profitable so they stay in business. So how to deal with it? This section presents you key concepts and underlying Six Sigma model so you will understand Six Sigma approach and benefits.
Presentation and key concepts (value, 5S, theory of constraints, DFSS, QFD, DFMEA, PFMEA,…)
DMAIC model (Define, Measure, Analyze, Improve, Control)
Day 3 :
DMAIC Method
Implementation and governance of a Lean Six Sigma program
SIPOC
Gathering and analysis of the Voice of the Customer
Critical To Quality (CTQ)
Kano model
Wheel of CTX's
Project Charter
Selection and specification of project Y
Elements of statistical theory: data types, statistical distribution and graphical display, normal law, central tendency and variation indicators
Data collection plan: characteristics to be measured (Y and X's), measurement system, sampling, short-term and long-term variation
Day 4 :
Measurement System Analysis (MSA) and elements of metrology (resolution, accuracy, precision, linearity, stability)
Gage R&R
Voice of Process
Shape of the distribution and normality test
Statistical precision of the estimates (confidence intervals)
Run chart and special causes identification
Capability (observed): defective rate, DPMO, yield, process sigma
Consolidation of potential X's: Ishikawa diagram (6 M's)
Descriptive and graphical statistical analysis: box plot, scatter plot, contingency table
Validation and weighting of X's (part 1): comparison of confidence intervals, basic tests for comparing central tendencies and variances, Pearson correlation test, simple linear regression analysis
Day 5 :
Validation and weighting of X's (part 2): Chi-square test
Root cause analysis: the 5 Why's, causes tree / Ishikawa diagram, relationships diagram
Synthesis of root causes / vital few's: causes-effects matrix, control-impact matrix, Pareto graph
Processes analysis: process diagrams, moments of truth, process mining tools
AMDEC (processes and products)
Idea Generation Techniques
TRIZ Method (introduction)
Day 6 :
Solutions evaluation : Must criteria, N/3, multi-vote, simulation (introduction)
Solutions selection : NGT, criteria based matrix, Pugh matrix and AHP
Pilot and prototype
Business Case (analysis costs / benefits)
Monitoring system: dashboard, response plan, documentation
Elements of Statistical Processes Control : patterns of special causes, implementation and use of control charts
Exam
Day 7 :
Supplement of inferential statistics: Beta risk, hypothesis test power, minimum sample size, process to apply hypothesis testing and draw conclusion
Global overview of hypothesis tests available and decision tree to select the appropriate test
Supplement of Voice of Customer analysis: statistical analysis and conclusion of survey results
Measurement System Analysis (MSA) for continuous data (Advanced methods for Gage Accuracy, Gage R&R, Gage Linearity) and their applications in services and manufacturing
Day 8 :
Measurement System Analysis (MSA) for discrete data (Advanced methods for agreement analysis) and their applications in services and manufacturing
Capability analysis (probabilistic) with continuous and discrete data: expected defects rate, Cp, Cpk, Pp, Ppk, Process Sigma calculation (short and long term)
Validation of the causes (part 1): application of hypothesis tests of comparison with continuous data and discrete data (advanced tests for comparing central tendencies, variations, proportions, occurrences rates)
Day 9 :
Validation of the causes (part 2): multiple regression and logistic regression
Design of Experiments: OFAT vs factorial designs (DOE)
Factorial designs (2 levels): full and fractional
Main effects and interaction effects analysis
Pareto chart of effects
Response surface
Response optimizer
Day 10-12 :
Application of Design of Experiments in services
Reliability testing (introduction to tests plans)
Verification tests and acceptance sampling
Statistical Process Control (SPC) : sampling strategy (sensitivity and reactivity) and Average Run Length (ARL)
Global overview of control charts available and decision tree to select the appropriate control chart
Study of following control charts :
Variable charts for individuals (I-MR)
Variable charts for subgroups (Xbar-R and Xbar-S)
Proportion charts (Defective rate : P and NP)
Defects per unit charts (U and C)
Time-weighted charts (moving averages, EWMA, CUSUM)
Exam
Optional : Practical Certification
 Our Offer

Our offer consists a 12-days for 4990€ (ex VAT) training to prepare you to pass the Lean Six Sigma Black Belt exam. Furthermore it contains the handbook, reading materials, exam, certification, beverages and light lunch. (Training dates: see below)
IASSC or ASQ Certified Green Belts can have a direct access to Black Belt certification. For more information on this upgrade call 02/206.10.82.
Our Lean Six Sigma Black Belt Training uses teaching methods which focus on the mental, physical and emotional development of participants. Their contents are specifically tailored to the training goals and the participants. Our teaching methods are both participatory and collaborative, involving problem solving, role-playing and serious games. They offer motivating challenges and stimulate participants to invest in their training. Subscription or Quote
Context and positioning:
All sectors (services and industry)
Need for a scientific and structured approach of complex problems solving and advanced decisions-making process (operations and business decisions)
There is a need for quality optimization of products or services
Implementation of a Lean Six Sigma program in an organisation
Target Audience :
Continuous Improvement Project Managers (all sectors)
Quality Engineers
R&D Engineers
Quality Managers
Operations Managers (all sectors)
 Who are our clients?
We partner with clients from the private, public, and non-profit sectors in Belgium and abroad to develop their Lean Six Sigma skills, address their most critical quality and process improvement issues. Our customized consulting, learning and development approach implements the Lean Six Sigma insights therefore at all levels of your organization. So this ensures you to achieve sustainable continuous improvement in your efficiency, quality, people, cost, customer satisfaction and revenue issues.
Our service extends beyond our work: we promote the exchange of expertise between our consultants and your organization. We believe that co-creation between us is key to the success of your operational excellence challenges. Through the development of these synergies, we ensure your people to master Lean Six Sigma philosophy and to run it afterwards.
Lean Six Sigma Belgium prepare you to pass various types of certifications ABPMP® (175€), LSSB (175€), ASQ (see website) or IASSC™. Please contact us to select the right certification and for further information.
Lean Six Sigma Belgium is an IASSC accredited organization.
IASSC™ Accreditation does not constitute its' approval or recognition of our own lean six sigma certification program. The only method to earn an IASSC certification is to successfully sit for and pass an official IASSC certification™ exam. We only upon request administer or provide access to IASSC Certification exams for an additional cost of 395$ Black Belt.
96 hours in classroom + 4 hours preparation (pre-reading + online introduction training) + 16 hours homework and study + 20 hours reading of 3 books = 120 hours + 20 hours coaching (optional practical assignment).
Our training efficiency is also high because of :
prerequisites / high profiles of the attendees (admission examination)
small groups (max. 12 people)
pedagogy used (teaching skills, practical cases and business games in classroom)
five learning tests and individual remediation
Information, quotation or expert call back.
Call us directly and get our experts on the phone: 02/206.10.82
Training Satisfaction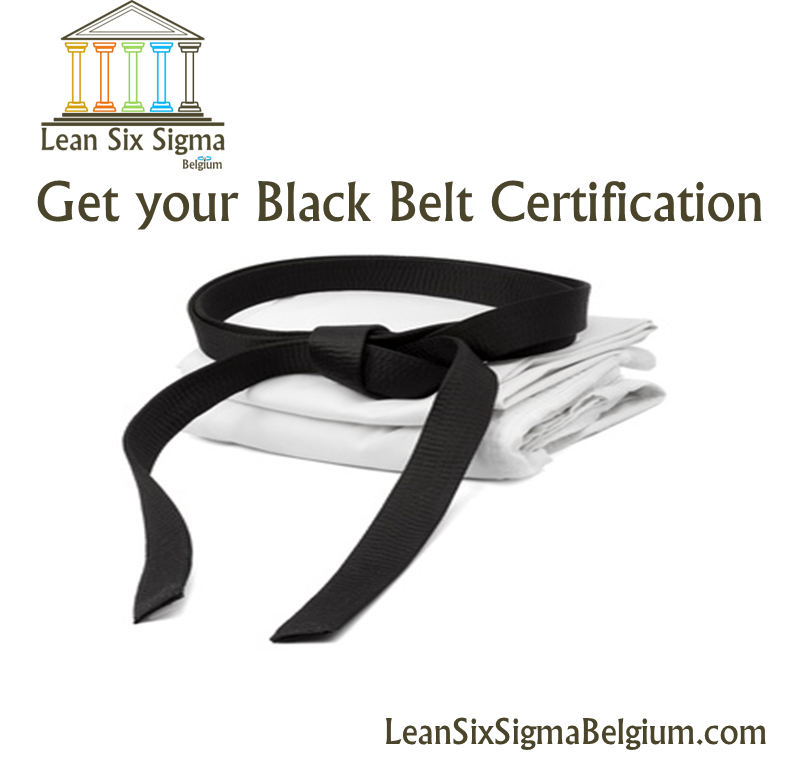 Rating
Organisation
Training Name
Lean Six Sigma Black Belt Training
Price
Training Availability